Auto Loans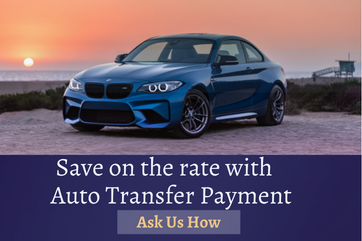 The credit union offers low rates on new and used auto loans. Refinancing your current vehicle from another financial institution with the credit union is another option to save you money or lower your monthly payments. USMFCU will finance vehicles that are a 2015 or newer model. Please contact the credit union for more details.
Rebuilt Titles
USMFCU offers loans for new and used vehicles with rebuilt certified titles. The loans have a 2% rate above the current vehicle interest rate. Maximum term of 48 months for repayment and the credit union will finance up to 75% LTV on these vehicles. The approval is based on the discretion of the credit union for rebuilt title vehicles.
We partner with CARFAX to make sure you know your vehicle's history! Contact us to get your FREE report!
Call us and ask our Loan Department for more information, or visit any one of our two locations to submit your Loan Application today!
Loans may be submitted via DocuSign, in person, or through our online"Apply Now". Please follow up with our Loan Officer for any additional information required for loan approvals.
DocuSign Available Here: Application Form
SPECIALS
Easy Digital Application!
Would you like to lower your payment or save some money? Ask us about refinancing!
Contact us for more information.
Auto Loans
Effective Date:
Saturday, December 9th, 2023
Name
Down Payment
APR
Term
New Car
as low as 6.00%
Up to 72 months
Used Car (2022-2020)
as low as 6.50%
Up to 72 months
Used Car (2019-2015)
as low as 7.00%
Up to 60 months
Semi-Truck - New
10%
as low as 8.00%
Up to 72 months
Semi-Truck - Used
10%
as low as 9.00%
Up to 72 months

*APR= Annual Percentage Rate

All Consumer Loans Special 0.26 basis points off with automatic transfer of payments.
Requirements & Restrictions apply:
Offer, rate & terms may change at any time without notice. Offer may be withdrawn at any time.
Automatic transfer payment from your USMFCU account must be set up in order to qualify for the loan special.This loan promotion is for both new and used auto loans. Twenty Six basis points off the current rates. Call for more details.
Go to main navigation