Perks of Going Mobile with USMFCU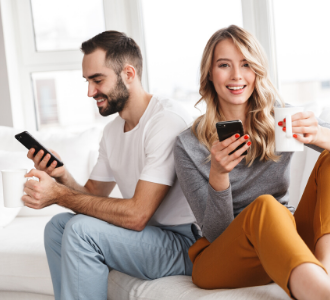 Even during a pandemic, we know that banking is essential. Manage your accounts safely from the comfort of your home!. Many of our members were surprised to learn about all the things they can do from their phone or tablet instead of having to come into a branch. Keep reading to discover all the ways mobile banking can make your life easier and safer.
Fingerprint/Face Recognition Login
Keep your account secure with our fingerprint-login feature! Not only is it more convenient to be able to login without having to enter your password, you can rest assured that your account's login credentials are safe and secure no matter where you open your app! All you need to do is have a smartphone with fingerprint or face recognition scan technology available and you're good to go!
Deposit Checks Immediately
One of our favorite features of mobile banking is the check deposit feature! It can really be a hassle to bring a check into a location to cash it, especially when you get checks regularly. Due to COVID-19, coming into a branch to deposit a check is even a bigger hassle. With our mobile check deposit feature, all you have to do is open up the USMFCU app, endorse the check, take a couple pictures, and voila! Your money is on its way to your account. To start using this feature, click enroll in Mobile Check Capture on your online banking portal.
Easily Transfer Money
You may have a lot of different accounts. Maybe you want to move something over from your checking account into your savings or vice-versa. Maybe you want to make sure that the account that you're using has enough money in it to make an online purchase. This is all possible within our mobile app. You can check your account balance in real-time and move your funds easily between accounts! To use this feature on the app, click Transfer & Pay to tranfer your funds.
Visa Payment
Easily pay off your VISA credit card using the mobile app. You have access to EzCard Info and to VISA payment on the mobile app. To make a payment on the app, go to Transfer & Pay, click on Make an internal transfer and choose the account you would like to pay from. Next, select VISA Credit Card and the amount you would like to pay. That was easy!
Pop Money
When you want to send money to your family or friends while maintaining a healthy social distance, Pop Money is the tool for you! With this feature you can easily send funds to anybody with an email address or phone number, they don't even have to be a member of USMFCU! Pop Money makes it incredibly easy to send money to the people closest to you even when they're far away.
Questions?
Our mobile app solves many of your banking needs from the convenience of your very own mobile phone. Do you have any questions on using any of these features or more? Please feel free to call us at (586) 756-3300 and we will be happy to walk you through it!
Ready to start using mobile banking?
In order to use the mobile banking app, you must be signed up for online banking. Follow the Step-by-Step manual or contact us and we will help you set up your account. Once you sign up for online banking, you can download our mobile app at the App Store or Google Play. Use your online banking login to log into the mobile app.
---
Download the USMFCU app!
Must be signed up for online banking to use the mobile app. Sign up here.
« Return to "Blog"
Go to main navigation