Site Pages
Related Links
Blogs
6 things you need to know before you purchase your dream home
6 things you need to know before you purchase your dream home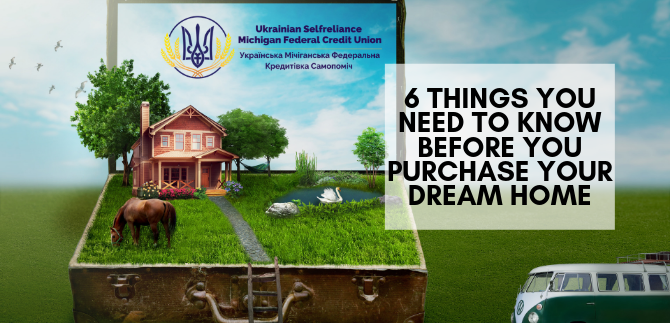 Purchasing a home can be stressful whether it's your first home or your third. It is said that for most people buying a home is one of the most important investments that they'll make in their lifetime, but how can you make sure that you're prepared to make the RIGHT investment? USMFCU is here to help you with 6 quick tips on what you need to know before you buy a home.
Check your credit score
Make sure that your credit score is up to par before you buy a home. Having a decent credit score can literally save you tens of thousands of dollars over the term of a loan. If you need help increasing your credit score USMFCU can give you great advice on building your credit. Just give us a call!
Pick the right realtor for you
A dedicated realtor can make the difference between being unsatisfied with your new home for years or finding your dream home right off the bat! Make sure that you're asking your realtor the right questions like if they're a full-time realtor, what their specialty is, and if you'll be working exclusively with them.
Get pre-approved as quickly as possible
Your home-buying process will go much smoother if you get your loan pre-approved before you start looking for homes. This is because you'll be able to move on your purchase quicker and have a better chance of holding your spot before another potential buyer takes it. With the help of Mortgage Center, USMFCU can get you on track quick and easy! Click here to start your application and get in contact with a Mortgage Center representative!
Check the current interest rates
When interest rates are good you don't want to miss out on them by waiting too long! At the time of this blog post interest rates are still historically low. Even experts can't reliably predict when interest rates will be high again so make sure you lock it in while you can! Give us a call if you'd like to lock in your interest rate.
Make a list of your "Must-haves"
Write down the features that you absolutely cannot do without. If you know that you need to have 4 bedrooms and a location in Warren, then noting that down will make it easier for your realtor to work with you. On the flip side, pay attention to what you're willing to be flexible on. Don't let something small that you could possibly fix in the future, stop you from getting your dream home.
Inspect your would-be home!
Make sure you inspect the home before you buy it! Paying a little inspection fee now can save you thousands of dollars in the future and ensure the safety of you and your family. Keep in mind that lenders don't require you to have an inspection, so this is something that you'll have to orchestrate yourself.
« Return to "Resources & Tools"


NCUA
- Your savings federally insured to at least $250,000 and backed by the full faith and credit of the United States Government. National Credit Union Administration, a U.S. Government agency.
Equal Housing Lender
- We do business in accordance with the Fair Housing Law and Equal Opportunity Credit Act